We want to bring the poetry of silent moving images back to the present!

As a group of musicians, artists and film professionals we create a platform for contemporary silent movies. Therefore we are building up a network and organise events to connect the roots of cinematography with the present aesthetics of image and live music production.

Click here to read more about the questions:
Can silent cinema still exist today and what defines a silent film?

Silence is not silent.


Moving Silence was originally founded in summer 2009 by the musician Marco Brosolo, filmmaker Matthias Fritsch and producer Federico Bassetti. Since the end of 2009 Anastasia X. is collaborating with us as producer & event coordinator for Athens, Prague and other cities.

Click here to read a German text with information about the beginning of Moving Silence and our activities in Athens!









up

Documentation of past events until 2012:





December 14+15, 2012 – CYPRUS
For the 2nd time we prepared a 2-Days Weekend of silent film in Nicosia/Cyprus in collaboration with ARTos Cultural and Research Foundation and Goethe Institut.
see program here



December 5, 2012 – LAS PALMAS
In 2012 we collaborated for the 3rd time with our friends at the Canary Islands. Dis-Play produced a Moving Silence Filmprogram at Dis-Play 12 on Las Palmas
see program here


November 4, 2012 – INDIA
We presened two filmprograms with live music performances during the Indo-German Urban Mela in New Delhi / India. Toni Kater, Marco Brosolo from Berlin, Mithilesh Kumar Jha and Stefan Kaye from Delhi performed live.
see full program here




With support of Goethe-Institut Delhi
The event is a project within the framework of "Germany and India 2011-2012: Infinite Opportunities" www.germany-and-india.com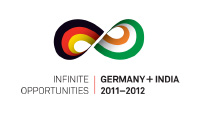 October 2012
We showed a silent filmprogram on October 11th in Pordenone, Italy in collaboration with:
Cinemazero, Dentalcoop, Le Giornate del Cinema Muto
see more info here


watch the live sessions here


June 2012
Anastasia X. presented Moving Silence at SYSTEMS in Athens Greece at CAMP

Matthias Fritsch did a presentation on Moving Silence at June 7th at Shortcutz in Berlin Kreuzberg. The talk was be followed by a live improvisation by Tom Foerderer on three silent Shortfilms ("Egg Love", "Cerini" & "Wintersong")


April 2012
On April 16th we presented a silent film program at the HBK in Braunschweig/Germany on invitation by Prof. Michael Brynntrup and Filmforum.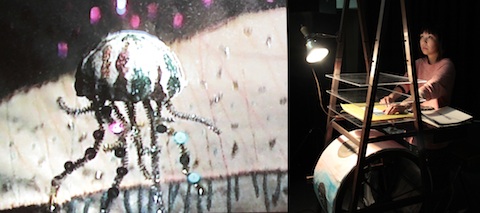 Emi Hirai doing live animation, Fotos © by Karl Heinrich Weghorn


March 2012
MOVING SILENCE FESTIVAL IN ATHENS
Our 5-Days-Festival took place in Athens/Greece from March 21st - 26th, 2012 at Goethe Institut Athen and CAMP.
see festival program here


Official Festival Trailer by Hior Chronik & Metin Akbaş

or watch on Youtube

Shortfilm "Trust" with music performed by NatrYX




February 16th, 2012
As part of the Directors Lounge Festival we presented a filmprogram in Naherholung Sternchen, Berlin.
see program here


December 2nd & 3rd, 2011
Moving Silence Events in Nicosia (Cyprus) on December 2nd & 3rd, 2011 at the X-Dream Festival in collaboration with ARTos Cultural and Research Foundation and Goethe Institut.
see full program here




Moving Silence also presented a Filmprogram at Dis-Play 11 on Las Palmas at the Canary Islands on December 2nd, 2011
see program here


April 1st - 7th 2011
Moving Silence Events in Athens (Greece)
at Goethe Institut, The Crypt and M55 Projects
see full program here



February 18th, 2011
MOVING SILENCE Special performance at Deposit KG (Berlin)
more info


December 19th, 2010, 20:00
Moving Silence at Sputnik Kino (Berlin)
see program here


Dezember 12th, 2010, 22:00
Moving Silence at LICHTBLICKKINO (Berlin)
see program here



display invited Moving Silence for collaboration in a series of events in
- Las Palmas at Canary Islands (Dec 2nd&3rd, 2010)
read program here
- Mexico City (May 28th, 2010) at Electrovisiones
- Amsterdam (June 4th, 2010) at Smart project space
- Berlin (July 14th & 15th, 2010) at Instituto Cervantes
read program here







Athens (May 28th & 29th, 2010) - Two Days Live Events at 6.D.O.G.S.



click here for full program



Gallery Školská 28 in Prague hosted an event on
April 16th 2010 (produced by AnastasiaX)
see documentation on Facebook
click here to read the full program

Part 1



Part 2




transmediale.10 in Berlin invited Moving Silence production
"Landschaft No. 2" to premiere on February 3rd, 2010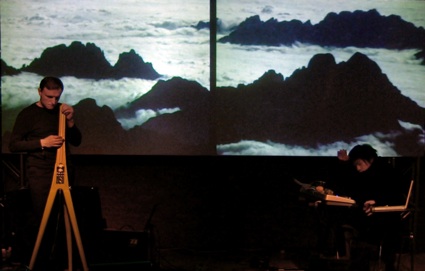 Performers: Marco Brosolo with "Ast" & Shingo Inao with "Qgo"
video by Matthias Fritsch



On November 27th, 2009 we were invited to perform the opening program
of Electro Mechanica Festival in St. Petersburg / Russia
click here to read the full program




Marco Brosolo aka "9" performed for Moving Silence at
Dokument Art in Neubrandenburg in October 2009


We had the first Moving Silence Event at cinema
Regenbogenkino in Berlin on October 3rd, 2009
click here to read the full program




up
Contact
email: info@movingsilence.net